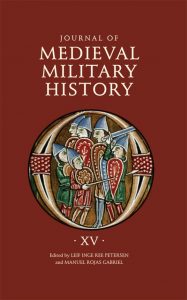 How on earth have I not seen these books until now.  I also didn't realise these set of books are actually the annual publication of De re militari: The Society for Medieval Military History.  With that in mind, I was really excited to delve into the Journal of Medieval Military History.  The first thing to say, is this is very well put together, for an organisation journal it is a very nice tome and not a magazine type affair you tend to expect.
This is a review of Issue XV.  I can see I am going to start saving for the previous issues.  Looks like this would build into an set like the Encyclopedia Britannica of medieval military history.
I think I am also going to have to become a card carrying member of De Re Militari.
The book doesn't contain a theme beyond medieval military history so there is a wide array of subjects, some taken from a conference in 2009.  From Roman warfare, Norman conquests,  to how the English adapted during Viking wars, to the conquest of Estonia, plus a nice article on the Longbow.
Each chapter covers a different topic by a different author so the book provides so a wide range of ideas on medieval strategy and tactical thinking.  It is interesting to see some very different topics presented together in the same book.
I was very interested in the Roman, Viking, and Longbow contributions.
Richard Abels section on English strategies shows a military strategic link between middle ages military doctrine and the strategies espoused by Vegetius in his book on later roman military tactics – De re Militari.  It also shows why siege conflict becomes so popular as Generals in roman times are told to starve an enemy rather than fight them.
The chapter on the longbow was very interesting as the author says most people think of the longbow being present and decisive in every battle fought during the middle ages, but as he points out, they were used in great effect when in combination with heavy cavalry and infantry.  In some decisive battles such has Benevento in 1266, Manfred of Sicily has some 10,000 archers and foot soldiers but the day is won by cavalry.  So it was as much about strategy and tactics as much as having bowmen on the field.
There are a few chapters I glossed over as they didn't currently appeal to me but I know they are there when I have a bit more time to investigate.
If you are a medieval military history buff, you will want to check out this range of books.
You can buy this book on Amazon
Please note I was not paid to write this review but was sent a review copy of the book. All comments are my own, and the publishers have not amended the review in any way.