Interview with Bettina at BladenSwords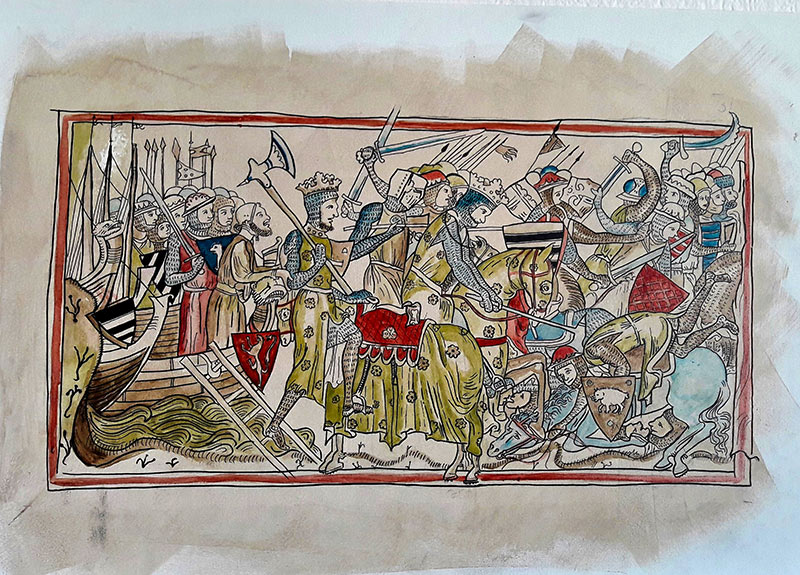 Tell us a little bit about yourself?
I am an Artist and HEMA practitioner, living in Feldkirch and Graz (Austria).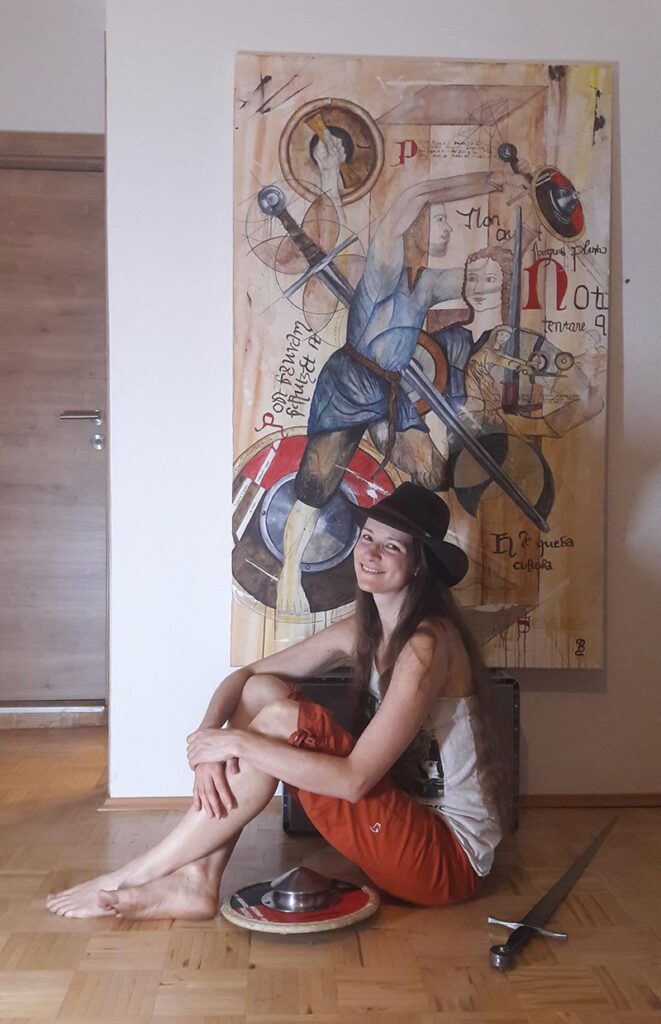 Since my childhood painting has always been part of my life. It was one of my favorite things to do, worked also as an escape from a quite hard reality and lead to a kind of an obsession. I painted almost on everything like school tables, my school books, even walls in Kindergarden and elementary school. The love for painting continued during my whole school career. Unfortunately, I did not have the opportunity to study what my heart wanted but what seemed to be reasonable.
In 2008 my life changed dramatically due to a chronic pain disease where my old life completely fell apart. After my diagnosis, I painted almost every day and what first was an escape soon developed into much more. I attended different art courses and taught myself basics and techniques to get better. I even got the chance to attend some exhibitions at Feldkirch and got my very first commissions there. I would say, I am a self-taught artist in a never ending development process.
HEMA (Historical European Martial Arts) is part of my life since 2016 and soon turned out to be my biggest passion (apart from painting). I fell in love with the martial art, also got interested in the historical sources and gained more interest into other fields concerning HEMA and history.
In 2018 I started with digital painting and the combination of my two passions HEMA and Artwork. Since then I am painting HEMA and history related themes in different styles, digital artwork, pencil drawings, paintings on canvas and even artwork with historical techniques and tempera. Last year I created a nice HEMA calendar in collaboration with another artist and offer other special products like for example funny medieval rabbit pocket squares. 🙂
Working in both the digital and analog world of art supports my learning process to become a better artist, as both worlds have their specific advantages and disadvantages. Some people might prefer to focus on only one field but for me the switching is important to keep my creative inner source flexible and open minded.
What is your favourite period of history to illustrate?
For historical drawings, I am mainly interested into the Middle ages and the Renaissance. One of my favorite styles is the Art of Gothic Illumination. The complexity of the used materials, the arduous manufacturing process and how historical artists managed to create those beautiful, detailed and long lasting masterpieces like the Morgan bible is extremely fascinating.
I also like to paint modern HEMA motives or combinations of historical and contemporary times.
I saw your Morgan bible work which is excellent. Are you trying to use traditional materials in your work?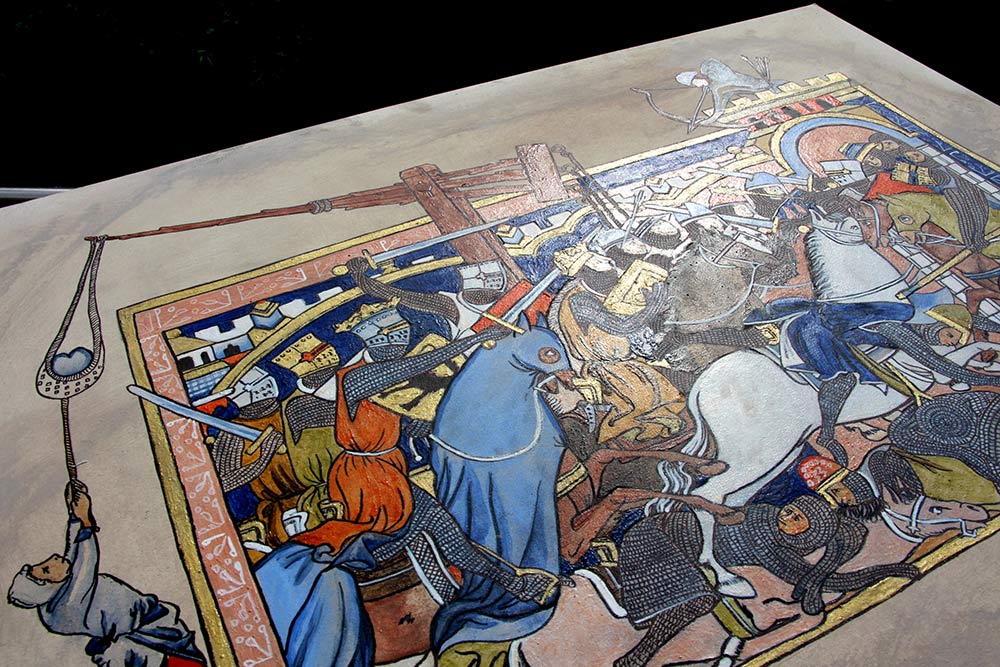 Yes, for historical themes on canvas or plates, I prefer to use traditional materials and techniques. I was doing research about art in the Middle ages and tempera painting was very common then. Tempera is an ancient medium, having been in constant use in most of the world's cultures until the Renaissance, when oil colours gained more significance.
Tempera colours are very intense and lively and have a great light reflection. Moreover, I am more interested in painting a historical illustration with historical techniques and colours than using modern material. This means every colour has to be made absolutely fresh before painting and sometimes again during the process as it is drying very fast, which means a lot of additional work.
The technique also takes more time than any other I have used before (as tempera has to be layered, dries within seconds, does not make smooth colour transitions and if one stroke is done – it cannot just be corrected like on an oil or acrylic painting). Overall, since I am painting with tempera I have much more respect for the old masters, I mean I cannot imagine how Botticelli painted his "Birth of Venus" with tempera, this is just insane.
The ink however I do not make myself, not yet, but I use one with ingredients that come close to the recipes from the historical sources. Generally speaking, there are not that many historical sources about medieval art and not many masters have written a lot about how to paint and what materials to use, but I am reading everything I can get. Some sources are texts by Cennino Cennini and Theophilus Presbyter, as well as De Arte Illuminandi by an unknown Italian artist from the 14th century.
How did the sword and buckler rabbits come about?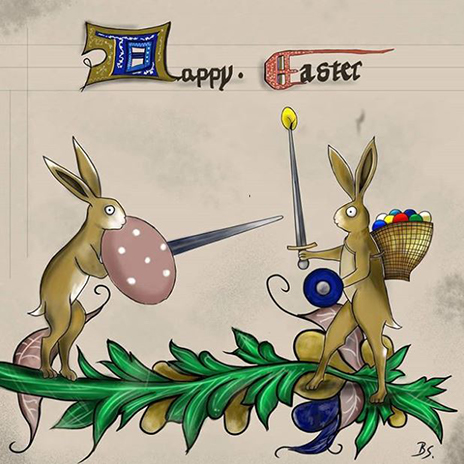 When studying medieval manuscripts, one cannot ignore the funny miniatures with snakes, dogs, strange hybrids and the cute rabbits with weapons, sometimes in hilarious combinations and positions. I like the rabbits the most, because they are a weird combination of cuteness and brutality, but mainly I think they are just very cute.
There are some famous sword and bucker rabbit illustrations in manuscripts but I am also doing my own versions of them and like to make Easter or Christmas greetings, pocket squares, shirt designs or other products with the medieval bunnies. I think, I just have a thing for these sweet little killer rabbits.
What are you working on next?
Currently I am working on another Morgan bible illustration with tempera on a wooden canvas. Moreover I am working on a publication project called "Ultima Custodia".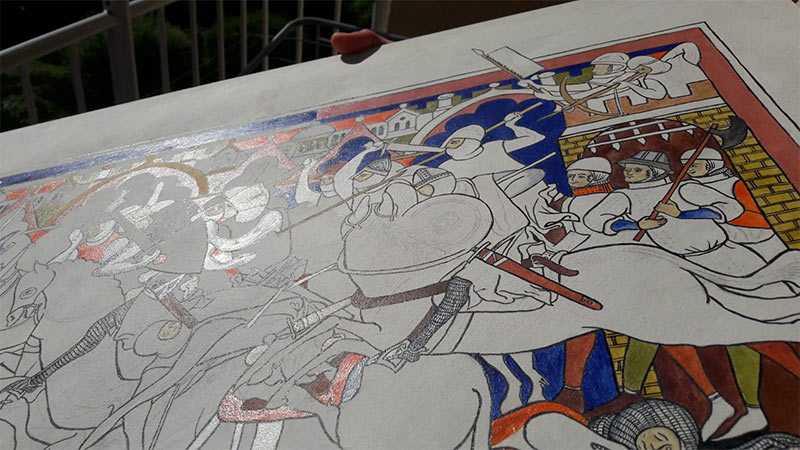 What is "Ultima Custodia" about?
Ultima Custodia is a publication project by Michael Lammer and myself supported by the Sword and Buckler Group of my HEMA club INDES Graz.
We are creating a modern translation and extensive interpretation of the Royal Armouries Ms I.33 Towerfechtbuch. This book from around 1300 is an illustrated medieval treatise on fighting with sword and buckler.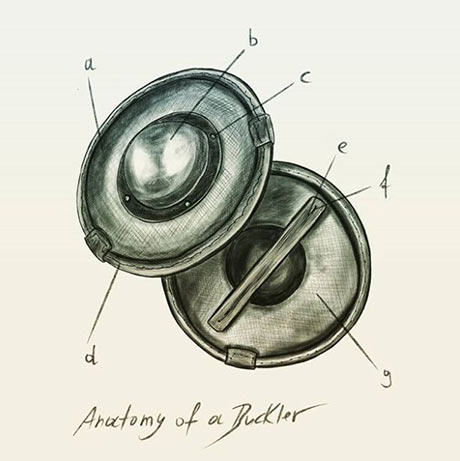 Apart from translating and working on the content with Michael, I create all the illustrations for this project. These are meant to provide help in understanding the fencing actions we describe as well as to form an appealing graphical framework for a beautiful book.
Unfortunately, scans of the original pages of the manuscript are not free to use in a commercial product. To raise funds for these license fees we have gained supporters via our Kickstarter campaign and we are very grateful for their trust and interest in Ultima Custodia.
You can find more information here: https://www.kickstarter.com/projects/ultimacustodia/ultima-custodia
Where is the best place people can commission a piece or buy prints?
I offer shirts, clothes and merchandise products for HEMA on Spreadshirt and Amazon; I have recently started to put art prints on FineArtAmerica.
Sometimes I produce special products with my designs or photos like HEMA calendars, pocket squares, dresses, scarves or masks. These and all links to my shops are on my website or my Facebook page. People can also get an overview of my work there and contact me if they are interested in a commission or a product.
I always feel very honoured if people are interested in my work. It means a lot to me.
Homepage: www.bladenswords.com
Facebook: https://www.facebook.com/BladenSwords
Instagram: bladenswords_hema
< BACK