Dürer's Fight Book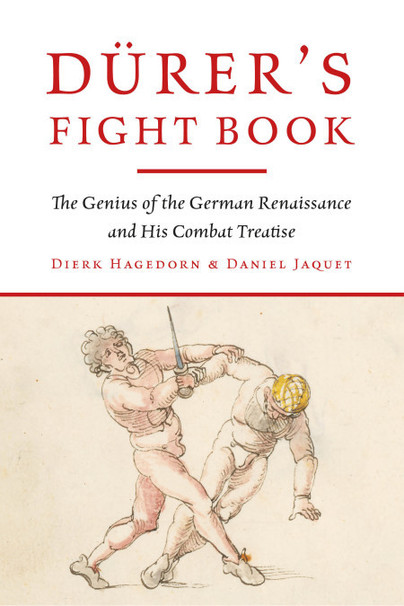 Albrecht Duerer is mainly known in artistic circles. He is a great painter of the Renaissance, yet it appears he has written or at the very least contributed to a martial arts manual of 15th Century Germany.
The book covers fighting unarmed, with dagger, knife (Messer), and sword. It also covers fighting in armour on foot with the sword, spear and dagger. Finally on horseback with lance and sword.
The book covers the 3 main elements of the Liechtenauer tradition of Blossfechten (Unarmed), Harnishfechten (Armoured) and Rossfechten (Armoured Horseback).
The book, like others is very well put together. It is a meaty hardback volume with detailed copies of the manuscript plates in the front section, with the the printed German then the translations and instructions in the second section. Having had one of two of the Author's other books, the sections are used in conjunction with each other using the two coloured book marks.
My only reservation about the book, it that is it is too nice to be sweated over in the fechtschule.
The artwork helps you to understand what is going on and isn't as interpretive as some of the older works, "what was he doing with that leg?". Also the translations help figure out what is going on. Having had access to other translations of different german tradition works, this book helps us understand some of the earlier work and descriptions.
Intriguingly for me there are a few plays using messer and dagger together.
You can buy the book here from Pen and Sword books.
Please note I was not paid to write this review but was sent a review copy of the book. All comments are my own, and the publishers have not amended the review in any way.
< BACK